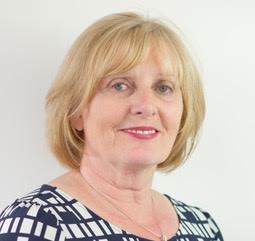 Brenda Vincent
Pluralistic Counsellor
Brenda offers counselling face-to-face, by phone or online using Zoom.
Brenda is a qualified Pluralistic Counsellor. The Pluralistic approach allows her to offer a tailor-made therapy in accordance with your individual needs. She works in collaboration with you to help you identify what you want from therapy and how you may achieve it. Her training has given her the skills to offer tools from many different approaches
If you are struggling with a difficult issue, Brenda would like to offer you a safe and confidential space where you can talk through things. When we are feeling anxious or worried or struggling to cope with difficult issues it can feel like a lonely place. Brenda helps people to find peace of mind by managing their anxiety or low mood. She does that by allowing them the opportunity to be themselves, to understand their thoughts and actions and help them to move forward in their lives. Counselling can help with most everyday problems that life can throw up:
Do you feel that past events are affecting how you cope with life today?
Do you want to talk to someone about the pain of losing someone close to you?
Are you feeling anxious or depressed? Is it affecting your everyday life?
Are you feeling really low and have been feeling like this for too long?
Do you wish you could stop being anxious?
Brenda has worked with clients who have presented with:
low mood
depression
anxiety
abuse
relationship issues
suicidal ideation
trauma
bereavement
Brenda can offer short focused or longer term counselling, depending on what your needs are. Choosing a counsellor is a very personal matter, so if you would like to contact me for further information and to see if I am the right counsellor for you, then please do.
Training, qualifications & experience
Brenda is a fully qualified Pluralistic Counsellor and Psychotherapist.  She is member of the BACP (British Association for Counselling and Psychotherapy).  She completed a 3-year MSc. in Counselling with Abertay University, from which she graduated with merit.  She has direct experience of providing short term therapy over the past 2 years in Muirhouse Medical Centre which is an established front line NHS Primary Care Counselling Service in an area of multiple deprivation and with ensuing challenges. 
Book your appointment with Brenda
Brenda is available on Wednesdays and Saturdays only.
Sessions last 50-60 minutes and cost £45. If you are late for appointment you will not be able to run over but instead the appointment time will be reduced. You will still be charged at the full rate. Payment is accepted through card, cash or bank transfer and will be required at the end of each session. Cancellations may be made up to 24 hours before the appointment. Appointments cancelled after this time will be charged in full.
What clients say:
"I found it difficult to talk about losing my partner, counselling helped me to talk about the trauma of finding him … I am more able to cope & now returning to work. I would recommend counselling to other people"
"I am no longer living in the past, what happened in the past does not define me now. I am more assertive & have learned to say no. It's only taken me 30 years to like who I am"
"I feel less anxious, I don't dwell on things anymore which would result in a spiral of depression."
"It's been great to talk to someone, who is neutral and non-judgemental."