Tabassum Haidar-Sarwar
Therapeutic Counsellor
Tabassum is offering counselling online and by phone
Tabassum is a Therapeutic Counsellor who specialises in the Therapeutic Holistic Model. This involves both the Cognitive Behaviour Therapy (CBT) and Person-Centred approaches, as clients many a time shift between the two modes. She works with women, providing safe and confidential support. Counselling sessions will be tailored to meet your particular requirements and needs. 
Tabassum's counselling experience includes working with:
Domestic violence issues
Bereavement
Anxiety awareness and management
Depression
Cancer support for those affected, family and friends
Self-esteem
Anger management
Islamic Counselling
For those who wish to do Islamic Counselling, this involves the spiritual aspect of Islam, addressing and understanding the difference between culture and religion, offering a safe space where you can see what Islam means to you, helping to give more balance to daily life and decision making. Islamic counselling involves greater awareness of the self and the impact that the ego/nafs has on a person's thoughts, emotions and actions.
Tabassum also speaks Punjabi and Urdu.
Her previous experience includes counselling clients with Cancer Support Scotland, Muslim Women's Resource Centre, Crisis Erskine, GP Medical Practice, BMACC and Sakoon Counselling.
Tabassum graduated in 2010 with an Advanced Diploma in Therapeutic Counselling.  This 3-year course involved a variety of models including CBT, Person-Centred, Mindfulness and Gestalt. She has experience of teaching and training and has organised and conducted workshops that support women in a safe and supportive environment. She also offers Life Coaching and Self Development workshops.  She undertakes CPD and has gained certification in ASIST (Suicide Prevention) and BME Mental Health Awareness, both credited by GAMH (Glasgow Association of Mental Health).
Tabassum is a registered member of British Association for Counselling and Psychotherapy (BACP) and works and abides by their code of ethics.
Visit Tabassum's website.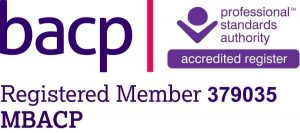 Book your appointment with Tabassum
A 45 minute initial assessment costs £35 and enables you to to discuss and form a plan of action best suited for your needs. Subsequent sessions last 60 minutes and cost £40. Block bookings of 8 sessions are also available at a discounted rate. Concessionary rates may be available.