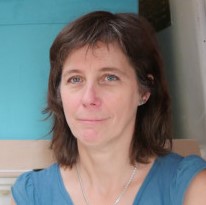 Sue Reid
Person-Centred Counsellor
Sue offers counselling by phone and video.
Counselling is a safe place for you to stop, take stock and explore the parts of your life that you're finding difficult. It's a time for you to use for whatever you decide, and always without pressure or judgement.
Person-centred counselling recognises that we all experience our lives in our own individual way. It may not feel this way, but you have the potential to know more about yourself than anyone else. Sue's job is to help you understand yourself better and find your own inner compass so you make decisions which suit you better. Sue's aim is help you build confidence in your ability to be in charge of your life.
Sue has been counselling since 1996 and has worked in a variety of settings including NHS, alternative healthcare clinics and private practice. She has also been a telephone counsellor for a large firm offering one-off emotional support calls and assessments for psychological services.
She will help you with whatever issue you bring. Additionally, for a number of years she has specialised in trauma and sexual abuse. She also has experience in neurodiversity and autism, and also gender-related issues, and in the residual trauma often associated with living with these issues.
Dealing with 'unwanted habits' or difficult feelings of whatever kind can be a large part of counselling. There is no definitive list of what Sue's counselling can help you with but here are some examples of what you might want to talk about:
Childhood abuse and neglect
Sexual abuse
Identity issues
Break up
Stress and anxiety
Trauma
Depression
Self-esteem
Suicidal thoughts
Relationships
Post-natal depression
Family
Bereavement
Decision-making
Sue has a social work qualification from her days working in homelessness and mental health, and a Diploma in Counselling (person-centred) from the University of Strathclyde. She is a registered member of BACP (British Association for Counselling and Psychotherapy) and works within their code of ethics and standards. She is also a member of PCT Scotland.
Sue is also a published author and uses her tiny camper van as a creative space and retreat, escaping to the wilds whenever she can. She has two adult children.
Visit Sue's website
Book your appointment with Sue
Sessions last an hour and cost £45.  (Please note that the price of each session will increase to £50 on 10th of August 2020.)