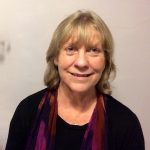 Ruth Jackson
Integrative Counsellor
Ruth offers counselling via Skype and FaceTime.
Although an integrative counsellor, and comfortable utilising elements from different counselling traditions, Ruth's method is grounded in a psychodynamic approach. She believes counselling offers reflective 'time out' from the stresses of everyday life. Given this unique space and time, clients tend to find that complicated feelings and pieces of personal history rise to the surface. Exploring these and understanding them in fresh ways can ease mental pain, grow self-worth, and engender more peaceful ways of living with oneself and one's decisions.
Although counselling is a collaborative endeavour, Ruth believes the client must be in charge of the process at every stage: controlling what emerges and what is left to one side, choosing what to divulge and what to retain. She respects this independence at all times, following a client's lead, but equipped to support the process of working through the material that is brought, and helping mould it to new contours and shapes that will sit more comfortably with the client in future.
Ruth can help with a range of issues including:
Anxiety
Attachment Issues
Bereavement
Changes and Transitions
Depression
Disability
Families and Relationships
Grief, Loss and Identity
Inter-Cultural Issues
Low Self Esteem
Major Life Events
Parenting Issues
Sexuality
Stress
Study related issues
Suicidal and despairing thoughts
Trauma
Work Related Issues
Ruth has a Diploma and Honours degree in Counselling and Psychotherapy. She is a member of BACP (British Association of Counsellors and Psychotherapists) and is bound by and adheres to their Codes of Ethics. She lectured in the social sciences in London and Belfast for many years. Involvement with diverse groups of students in prisons and in the community nurtured her understanding and interest in how, throughout our lives, our emotional well-being influences our ability to learn and grow. Working for the Open University in Ireland she became responsible for delivering pastoral care to students on both sides of the border. In recent years she trained as a psychotherapist and has worked with individual clients in a community-based counselling agency in West Belfast.
Book your appointment with Ruth
Sessions last 50 minutes and cost £45.