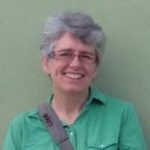 Marion Blain
Internal Family Systems Therapist, Psychodynamic Counsellor
Marion offers counselling face-to-face, and by phone, Zoom and Skype.
Marion is an experienced Psychodynamic Counsellor and Internal Family Systems Therapist having practised within the NHS, Mental Health Services, Education and the voluntary sector.  She offers a time, a place and a space to explore thoughts, feelings, worries, memories, dreams, desires, hopes and fears.
Sometimes we are clear why we are coming for counselling and at other times we just have a felt sense that something isn't right and we want some help to change. Either way, taking the first step to explore your own inner and outer world, and its impact, can feel both daunting and exhilarating.
What can therapy offer you?
It can provide support and a way through the difficulties of life such as bereavement, redundancy and relationship concerns
It can help you work out your priorities and choices about the future and what might be stopping you.
Internal Family Systems can help with many things including:
Perfectionism
Eating Issues
Relationship Problems
Anger
Depression
Low Self-Esteem
Anxiety
Addictions
Procrastination
Shyness
Your Inner Critic and Judging Self
Trauma
Recent Independent research has also shown a positive impact on Rheumatoid Arthritis sufferers.
Visit Marion's website
About Internal Family Systems Therapy (IFS Therapy)
The IFS model is based on two core ideas:
At our centre, we all have a Self which has the ability to act as an effective compassionate leader of our inner world.
Our personalities are made up of many different aspects, or parts, that form themselves into a distinct internal system.
In an IFS session, Marion will gently and respectfully facilitate you to get to know these parts, some of which have often become trapped in roles and ways of working which are experienced by you as unwanted symptoms or unhelpful patterns of behaviour.  The goal is to restore balance and harmony to the system as a whole.
See the video here to find out more about IFS during the Covid-19 crisis:  "An Internal Family Systems Approach to Anxiety and Fear" by Dick Schwartz, the founder of IFS.
Marion is continuing to offer Zoom and telephone sessions.
Marion follows the ethical guidelines laid down by the British Association of Counselling and Psychotherapy (BACP). She is a member of the Scottish Association for Psychodynamic Counselling (SACP) and is listed on the IFS America therapists' web site.
Book your appointment with Marion
One-hour sessions cost from £55 to £45.  Marion reserves a few concessionary places for those on a low income so please ask if this is your situation.