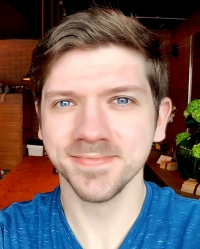 Graeme Lynch
Person-Centred Counsellor
Graeme is a Person-Centred Counsellor.  As someone with personal experience of being a client in therapy and struggling to confront issues in his life, he understands the challenge of taking the first step towards change.
With this understanding in mind he aims to consider how best to support you through this process of change or acceptance and to face the challenges with you. Graeme views therapy as a relationship which offers a non-judgemental space to explore your thoughts and feelings in a safe environment. He works to support you in shifting unhelpful perspectives and facilitates acceptance with unchangeable life circumstances.  He is happy to work with whatever you bring and to avoid using the traditional labels associated with mental distress. Instead he works from an existential perspective which takes into consideration the entire life of a person and how you can live a more accepting and meaningful life in spite of the suffering you may have faced.
Graeme has experience of working with:
Trauma
Physical Abuse
Emotional Abuse
Sexual Abuse
Victims of crime
Depression
Anxiety
Personality difficulties
Relationship difficulties
Suicidal Ideation
Self-harm
Death
Loss
Meaninglessness
Responsibility
Isolation.
Graeme has a particular interest in Existential issues e.g. death and loss, meaninglessness, responsibility, isolation, freedom of choice and actively works with these human difficulties.He has a BA in Social Sciences and a Postgraduate Diploma in Person Centred Counselling. He is accredited with the BACP and is a member of the Society for Existential Analysis. He has completed several courses since to enhance his knowledge and skills as a practitioner including; trauma and stabilisation, existential theory in practice, counselling for depression, solution focused therapy and play therapy.
He works within the NHS and has specialised in trauma services that focus on sexual violence and abuse. He also worked in primary care for many years facilitating change with clients experiencing multiple and varied difficulties. He has experience working with the LGBTQI community and young adults/children through voluntary work through the years. He also spent time working with Employee Assistance Programmes (EAP) supporting employees through a crisis and in counselling.
Visit Graeme's website here.
Book your appointment with Graeme
Sessions last up to 50 minutes and cost £50.  Graeme offers concessionary rates for students and those on low incomes.