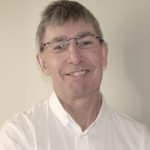 Donald Ashburn
Person-Centred Counsellor
Donald offers counselling face-to-face, by phone and by video.
Warm, caring and down-to-earth, Donald is a Person-Centred Counsellor who works with a wide range of clients.  He will provide you with a safe and confidential space where you can explore your thoughts, feelings and concerns. These explorations take courage and it can be scary for people to ask for help at the time when they need it most. Thoughts and feelings directly impact on your mood and ability to cope with life, so sharing these feelings can help you to look at your distress and encourage positive change.
The key to meaningful change in therapy is the relationship established between yourself and your counsellor. This is what Donald offers to clients from the very first session, by helping you to feel fully accepted, respected and supported in a non-judgemental way.
He has worked in a number of different counselling settings, including an internationally reputable addiction rehabilitation hospital, where he still works part-time, providing counselling for clients with issues of substance and behavioural addictions. He has also facilitated addiction recovery groups. Donald has worked as an associate counsellor in a local college and is very familiar with the difficulties students can experience during their studies.
Donald also works with clients who are feeling actively suicidal, have previously attempted suicide or who are having suicidal thoughts. His experience is that clients who are feeling suicidal are not necessarily depressed but can be feeling trapped or isolated in their lives.
Donald feels privileged when clients allow him to share their innermost feelings and emotions. A few examples of some of the issues he has worked with are shown below:
Abuse (childhood, domestic, emotional, sexual)
Addictions (drugs, alcohol, gambling, food)
Anger
Anxiety
Bereavement
Depression
Low Self-Esteem
Stress
Visit Donald's website here.
Donald is a fully qualified Person-centred counsellor.  He is a registered member of the British Association for Counselling and Psychotherapy (BACP) and works in accordance with their Ethical Framework for the Counselling Professions.
Book your appointment with Donald
Sessions last one hour and cost £40.